Excerpts from writings of girls at The Fabindia School


The teachers of this school not only feed us with facts, but also have class discussion on various topics related to our day-to-day life and the problems which our country is facing today. We are very lucky as this school works for the welfare of girls. Girls are given scholarships, free bus service, etc. Equality of gender is maintained in this school. We are learning many things like art and craft, how to participate in different competitions, literature, different sports, etc.
…The campus of the school is surrounded by trees and plants, so that we can learn to protect the plants and work towards forestation.
…We are taught to face difficulties, come over them and fly like free colours in the sky.
-Daksha Jain, Class X
…There are many facilities in my school. There are many improvements in my life. We are getting here very good education.
…I have become good in studies. We are having a computer lab. We are having a science lab also. I think in future I will become a good person because of this school.
-Swabhi Parmar, Class VII
I am enjoying in my school. Now, I want to tell you about my school. First I study in Hindi medium school there I don't know how to speak in English. When I came in this school then slowly-slowly I learn English in one year. Now, my writing is also nice.
-Payal, Class VII

The Fabindia School is very wonderful. It is my dream school. I like my school because it provides many facilities to girls.
…My school is cooperating with parents when there is any problem or any work is needed for the students.
…One thing is very best that from nursery to class tenth the students are speaking in English they are not allow to speak in Hindi in the school campus. The students who belongs to poor family they are also getting education. They are very good in English.
…When I came to school I felt very nice. I am very good in studies and also in sports. The students of my school is very obedient and respectful.
-Rozee Chouhan, Class VII
I'm a VI grader of Fabindia School. It is a wonderful place. My life is totally changed by studying here. I think this is the best school in the world. There many improvements in my life. I'm getting very good education here.
…I'm very confident that I will become something good in my future because of this school.
-Priya Vyas, Class VI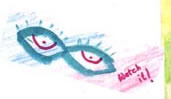 When this school was built there were only 5-10 students and then the school started with a good scheme that is half fee for girls and then many parents found this school interesting and they started sending their child to this school. This school is very advanced and unique because it provide scholarship, free bus services, half fee for girls, etc.
…The school has taught me many things like singing in a proper tune, dancing, playing and making new things (art & craft) etc. I have learned a lot from this school.
-Ashwini Chauhan, Class X

It's my pleasure that my school is such good. Alas! It's wonderful. The teachers, students of this school is brilliant. Here, the girls are getting all the facilities what they wanted. I'm thankful to god that we got such a good school Fabindia. Here, we all enjoy so much. All the teachers encourage the students of our school.
...In our school everybody are equal. Here we are having many competitions from which we are learning many things.
...In my case it's a magic school. The teachers help us very much. If someone is week so the teachers encourage them and make them able to do that case.
…Our school is full of environment. Here there is no voice of vehicles and we are learning very silently. Here we are educated as a wonderful child. Here the childrens of poor people are treated equally.
-Shefali Jain, Class VII
My school is very nice and I love it. I have got my school as a school in my dreams. There is everything that I wish like, here we study also and entertain also. We also do so many extra curricular activities.
…My school is very nice and I don't want to leave it. Before when I came to this school I think I was nothing. I was not confident for doing anything.
…I think one day this area will be literated.
-Isha Sayed, Class VII

"My Life at Fabindia School"
Veena Choudhary, Class X
I think school is that institution where a person makes his/her over all developments. In the school a person becomes aware of his surrounding and gathers information of the worlds. The institution is the preface of one's personality.

Students are the beauty of the school. In school teachers behave equally with girls and boys. There is no discrimination among each other. Due to fund crunch and institutional vacuum our government is improving the conditions of man and woman. School is a swimming pool where the swimmers are the students. Those students who obey the elders are the winners in their life. I found a different impression at Fabindia.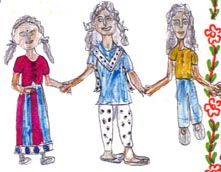 Here teachers are just like ancient gurus who give us information. The knowledge which they have gained by their experience of several years is transferred to us in a few months.

That is really exciting. Being a student at Fabindia was a different experience and I really enjoyed it. All the teachers were close to perfection. They showed me the right way. I think,
I wont get such brilliant teachers in my life. I am proud of myself that I am a discipline of brilliant Gurus of the Fabindia School.

In Fabindia School, I came across Gap volunteers; they were those persons who want to enjoy their life while working as volunteers.
Charlie Sir who was introduced by Hema didi; I enjoyed a lot with him. He behaved with me like a brother and suggested me to continue my further studies. Charlie Todd is a person who knows which student wants what. Charlie is a perfect visioner and can tell the feeling of inner heart. It is my luck that I met with such a brilliant person. I am proud of my school that gave me such a magnificent chance.

I think that in future I won't be able to meet my teacher because no one knows what will happen. At last I want to conclude that after leaving this school I am not happy because I am leaving my teachers who loved to me as a child.

The Fabindia School will grow and emerge as an institution which will provide shelter to millions of girls of rural Rajasthan by providing them free education.